Here is some travel advice to those who dare to explore the depths of Lithuania. I'm not saying there is something wrong with partying all day and all night at the craziest clubs and pubs in Vilnius or baking in the sun on one of the golden beaches of Neringa. It's perfectly fine. However, if you want to taste the essence of this ancient land, you should visit a few special places where our ancestors lived.
Near Klaipėda, where the Eketė stream joins the Dangė river, is where one of the most famous and probably the largest Curonian hill fort in western Lithuania, Eketė, is located. The Eketė Hill Fort dates back to the period from the 1st millennium to the 13th century... (Source: 584km.lt)
If you are on a road trip around Western Lithuania, the mound of Eketė could be one of your stops. My other suggestions would be visiting Mosėdis with its Museum of Rare Stones & The garden of Intas, checking out some of the hanging bridges of Minija River, or participating in the yearly festival of Apuolė.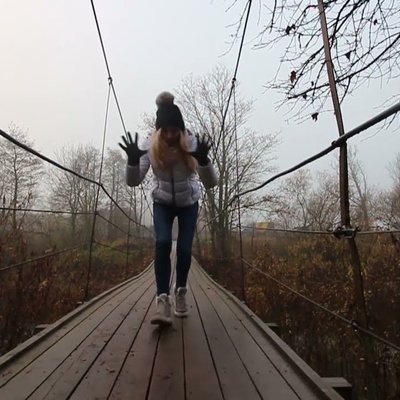 Hanging bridges of the Minija River
The difference between standard bridges and hanging ones is that hanging bridges are moving. When you try to cross them it feels like they are alive.[...]